From the woodwind family and commonly known as Sax, this instrument of rich timbre and agile mechanics has a tradition in jazz and Brazilian music. The objective of the saxophone lessons of the Quarteirão da Música is to develop the sonority, tuning, technique, reading and improvisation.
After choosing between the high Saxophone and tenor Saxophone (more low-pitched), the student learns typing, embouchure, musical notation, scales, and other requirements needed to act as soloist or as accompaniment in various musical styles.
Saxophone Teacher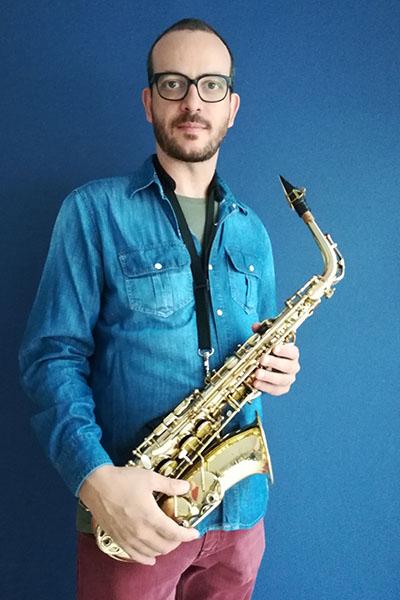 Leonardo Muniz Corrêa
Iniciou seus estudos musicais aos seis anos tendo como instrumento o piano, após um tempo despertou o interesse pelos instrumentos de sopros e aos doze ganhou seu primeiro clarinete. Mais para frente veio o saxofone e teve como professores grandes mestres como Roberto Sion, Carlos Malta, Mario Checchetto e Vinícius Dorin. Em 2001 se formou na Faculdade Santa Marcelina no curso de composição tendo como principais professores Paulo Tinet, Marcos Mesquita e Silvio Ferraz.
Desenvolve seu principal trabalho musical, tanto de instrumentista como de compositor e arranjador, na banda "Projeto B" que lançou seu terceiro CD em 2009, misturando linguagens da música erudita contemporânea com o jazz e a música brasileira e no grupo "LIMbo", onde a principal influencia é o free jazz e a improvisação livre.
Trabalha também com o "Quinteto 7 Notas" e já participou de vários grupos musicais, entre eles: "Projeto Axial", "Manu Maltez e Banda Cardume" e "Armazen".