The classes of body expression aim at disinhibiting and instrumentalizing the singer's appearance in order to increase their performance on stage without harming the vocal technique.
The work consists in self-knowledge, as well as in the valuation and development of the individual potential for the creation and promotion of group work. For this, we work on physical exercises such as stretching, breathing, rhythm, scenic playing, spatial awareness, compositions, improvisation and choreographies created collectively.
Body Expression Teacher - Creative Interpreter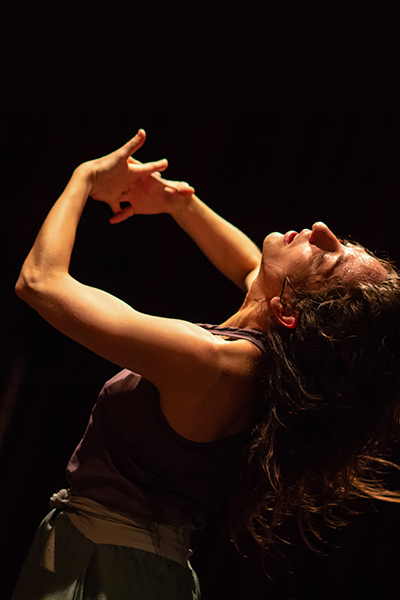 Cristina Ávila
Formada em Educação Artística/Artes Cênicas pelo Instituto de Artes da UNESP/SP (2001).
Começou sua formação como atriz em 1989 em cursos livres do Teatro-Escola Célia Helena e da Casa do Teatro. Iniciou estudos em dança contemporânea em 1999.
Entre outros trabalhos paralelos, integrou os grupos Sahaja Camaleão (SP/1993-1998, dir.: Érika Bodstein e Valéria Marchi), Dancia (SP/2000-2002), Canhoto Laboratório de Artes da Representação (SP/2002-2005, dir.: Alexandre Mate), Danceato (Diadema/ 2002-2009, dir.: Ana Bottosso), Corpo da Vez (Diadema - Menções Honrosas/Bailarina-Intérprete: Mostras de Artes de Diadema 2006, 2007 e 2012).
Desde 2002 atua em projetos de formação como Programa Vocacional, Fábricas de Cultura e outros, e desde 2012 trabalha com registros e edições em vídeo.
Atua como intérprete e assistente de produção da iN SAiO Cia. de Arte desde 2010, integrando o elenco dos espetáculos Lugar algum (2010), Cálamo (2012), Novos experimentos (2012-2015), Dark Room (2014), Abissal (2016) e Ato infinito (2018).