During our drums lessons we work on a broad knowledge of rhythmic patterns and phrasing in the context of various musical genres and on the technical skills necessary to perform them.
Consciousness, rhythmic sensibility, posture and interaction with melodic instruments are developed through methods assembled by the teacher. Playbacks and recordings strengthen the exercise of studying this instrument in the Quarteirão da Música.
Professora de Drums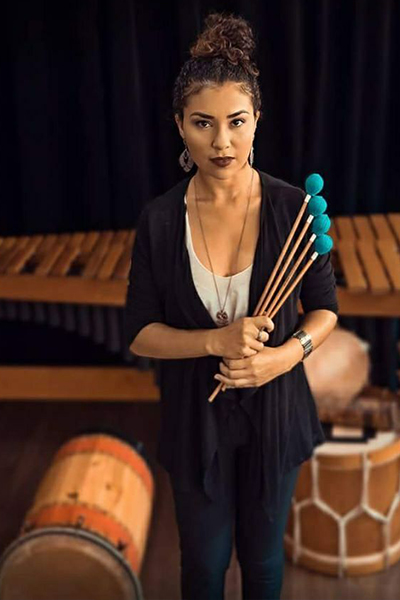 Francielly Rufino de Oliveira (Franci Óliver)
Paraense, 27 anos. Educadora musical e instrumentista. É técnica em Percussão e técnica em instrumentista de banda pela Escola de Música da Universidade Federal do Pará (EMUFPA). É graduada em música pela Universidade do Estado do Pará (UEPA).

Há oito anos participa como instrumentista de eventos, shows, gravações, entre outros, acompanhando diversos cantores, tais como, Lia Sophia, Toni Soares, Pedro Luís (Monobloco), Thamires Tannous. Leciona musicalização, as disciplinas de teoria musical e prática de banda, além de instrumentos como piano, bateria, e sua especialidade, percussão.

Desenvolve também um trabalho de pesquisa, acerca dos tambores em manifestações peculiares do Estado do Pará.